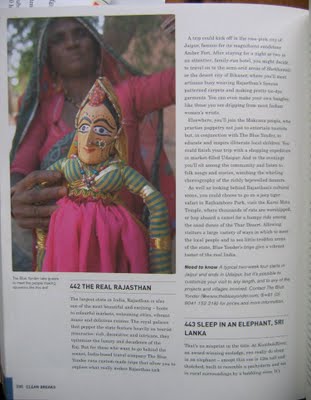 page 330 : Rough "Guide's Clean Breaks - 500 New Ways to see the world"
The largest state in India, Rajasthan is also one of the most beautiful and exciting - home to colourful markets, welcoming cities, vibrant music and delicious cuisine. The royal palaces that pepper the state feature heavily o tourist itineraries: rich, decorative and intricate, they epitomize the luxury and decadence of the Raj. but for those who want to go behind the scenes, India-based travel company The Blue Yonder runs custom-made trips that allow you to explore what really makes Rajasthan tick.
A trip could kick off in the rose-pink city of Jaipur, famous for its magnificent sandstone Amber Fort. After staying for a night or two in an attentive, family-run hotel, you might decide to travel on to the semi-arid areas of Shekhawati or the desert city of Bikaner, where you'll meet artisans busy weaving Rajasthan's famous patterned carpets and making pretty tie-dye garments. You can even make your won bangles, like those you see dripping from most Indian's writs.
Elsewhere, you'll join the Makrana people, who practice puppetry not just to entertain tourists but, in conjunction with The Blue Yonder, to educate and inspire illiterate local children. You could finish your trip with a shopping expedition in a market-filled Udaipur. And in the evenings you'll sit among the community and listen to folk songs and stories, watching the whirling choreography of the richly bejewelled dancers.
As well as looking behind Rajasthan's cultural scene, you could choose to go on a jeep tiger-siger in Rathambore Park, visit the Karni Mata Temple, where thousands of rats are worshipped, or hop aboard a camel for a bumby ride among the sand dunes of the Thar Desert. Allowing visitors a large variety of ways in which to meet the local people and to see little-trodden areas of the state, Blue Yonder's trips give a vibrant taster of the real India.