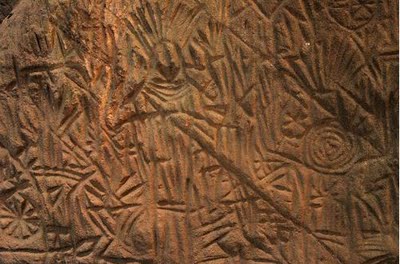 engravings at the edakkal caves

According to
The Hindu newspaper
of 26th Sept 2009,
"A rock engraving, indicating clear remnants of Harappan culture, has been found in the Edakkal caves in neighbouring Wayanad district, linking the Indus Valley civilisation with South India.

"There had been indications of remnants akin to the Indus Valley civilisation in Karnataka and Tamil Nadu, but these new findings give credence to the fact that the Harappan civilisation had its presence in the region too and could trace the history of Kerala even beyond the Iron Age," historian M R Raghava Varier said.
"

Even before the latest findings, Edakkal Caves have attracted serious travellers for its pre-historic etchings and engravings. Brought to the attention of the world by an English officer Fred-Fawcett, the site was identified to be a habitat of Neolithic people (i.e. late Stone Age, c4000BC to c1700BC).
Except for the hue and cry that we hear when similar archeological findings are publicised, there is hardly any care being taken to maintain the sanctity of the site. If not for the interest shown by passionate individuals and
responsible hoteliers
nearby, the site would have been in doll drums long time back. Wayanad Tourism Organisation and some of the well-known archeologists in Kerala has been trying since 2007 to get the attention of UNESCO to declare the area amongst the World Heritage sites.
More information on similar sites are recorded in
this website.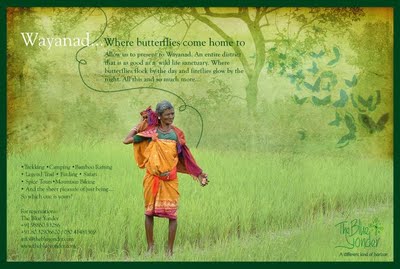 Wayanad: Where butterflies come home to. First advertisement on Wayanad from TBY
Rich in wildlife, Wayanad's mountainous terrain houses the best in wildlife and spreads the aroma of all possible spices found in Kerala. Situated in the southern region of the Deccan plateau bordering
Karnataka
state, this district is untouched by rail or air traffic and is approachable only by road.
The Blue Yonder organises responsible holidays in Wayanad which includes heritage and legend trails, rain forest trekking, bamboo rafting, spice tours, wildlife safari and walking tours. More information on our Malabar holidays can be
found here
.