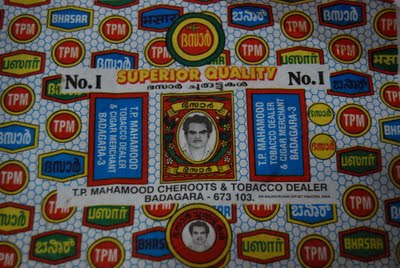 No.1 Basar Churuttugal (Cigars) / pic Xavier Muhlethaler
It's not that every day you run into Cigar makers in Kerala. There are still six workers who are actively involved in cigar making in the once communist bastion of Bagadara town. According to them, there are about thirty workers still engaged in the trade in North Kerala, but all of them aged and not in a position to work any more, so they roll the cigars whenever they can from their home.
The T. P Mahamood, 'Tobacco Dealer and Cigar Merchant' runs the only surviving cigar brand in Kerala by the name of 'Superior Dasar' cigars. Every time we went to visit them, we realised that the time paused when they talk. However, when their memories go back to their life as young-passionate-communist party workers, it is as if we are on a time-machine. Rajan Vadakkayil, 63 emotionally went back and forth to the days when cigar workers were the back-bone of the leftist movements in Kerala.
22 pieces in one packet and sold at Rs 10 per packet!
pic Prakash WK
Paralla Parambathu Chaathu, 70, reminded us that there was a time in the late 40's when many people left their teaching job to roll cigars in Kannur district as they earned more! Still an ardent follower of left ideologies and communism (as he knew it), Chaathu is at pain hearing his colleagues criticising the trade unions and political parties that they once were part of. It was only when our colleague Mohammed wished him 'Laal Salaam' (Red Salute), that he giggled. Till then we didn't know that he was suffocated for the last couple of hours listening to our discussions on the value-erosion of left politics in Kerala and how the communist leaders who once built a movement of workers and farmers don't even know that these cigar manufactures still exist!
'Do you know that one of MLA (Member of Legislative Assembly) exclaimed after watching a documentary on us in a local Television channel, 'Really? There are still cigar workers in Kerala'
. Chandran continued,
'We are glad that someone noticed us through that documentary. Her statement hurt us a lot though, because her father was a cigar roller and now a famous politician of the left. This is where the left movement has dived into, this is where we have ended up as well'.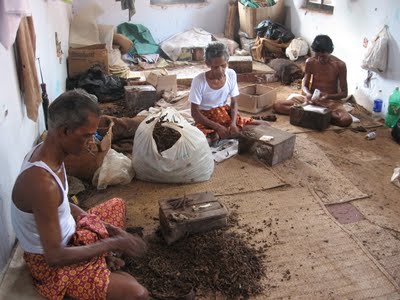 From 7.30 am till late evening, they sit in this yogic posture rolling one cigar after the other.
pic Prakash WK
They earn a maximum of 60 Rs (less than a Euro) per day depending on the number of cigars they can roll. Gopalan, another cigar maker ( who prefers to smoke only Beedi!), said that with their age, on an average they earn about 50 Rs out of which they have to find money for their tea and lunch!, When I asked them why they don't go home to eat (so as to save some money) he said that they will lose that much more time to roll and earn even less.
A packet consisting of 22 cigars are sold in the market for less than 10 Rs! Certainly, we are not talking about elite Cuban cigars here!
When asked why they continue to do this tiring, low income ( where is the income anyway!) job, Chandran retorted,
'Son, what else do you think we know to do? We are all above 60 now. We started at the age of 14 and this is the only skill we have! Our kids have grown up and luckily they earn enough to support their family by driving autos and similar jobs and what we are earning right now is just for our basic need. If we think about taking a break, we go crazy, so for the peace of our mind, we come here every day at 7.30am and reflect on our lives and past. Then, once in a while, people like you come hearing about these 'lost-souls' and we feel good to know that we are actually 'alive'.
These cigar workers in yogic postures gets 200 Rs (less than 4 Euros) per month as a social security support, which apparently has not been paid for last 8 months! These are the same workers who used to organise rallies for fair wages and human rights and to support the struggles of the fellow proletarians of the world. Ramakrishnan, who was silent till the end of our discussions laughed at this memory and said,
'we used to run to various parts of the town to organise rallies and protests at the cost of losing the 'per-cigar-pay, whenever we get a note from our leaders who were under-ground (hiding from Police). For us it was the proletarian movement that came first, not even our hunger'.


A daily worker in Kerala who earns about 250-400 Rs depending on trade / skills
is considered to be rich compared to workers in many other parts of India. In the same Kerala, we have these workers who are rolling cigars to complete their cycle of life and death.
As one of them sighed,
'Janichu poyille'!