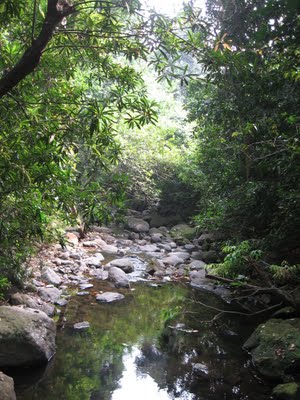 If not taken care of immediately, such newly opened destinations will turn into eco-disasters
Ill-planned, half-baked and funding dependent tourism projects can turn disastrous than achieve sustainable tourism. Yesterday afternoon our team went to scout for new tracks and ended up at the valley of
Western Ghats
in North Kerala. We entered a pristine length of the forest only to be welcomed by plastics strewn all around.
'Ever since we opened up this region for tourism, we see far too much waste that we don't know what to do. They haven't even appointed anyone on a salary to support the 'eco-tourism' initiatives. Worse, when we appointed two women to collect waste, the committee in-charge of the eco-tourism refused to pay wages to them as they thought it was waste of money!'
. One of the locals lamented.
On our way back, after a relaxing swim in the stunningly beautiful river in the rain forest, three of us started collecting plastic wastes left behind by tourists, only to realise that our guide who was walking oblivion of the waste surrounding us started picking up one after the another. We didn't train him, we didn't request him, we didn't preach nature conservation. However, on seeing us collecting the plastic waste, he also joined us.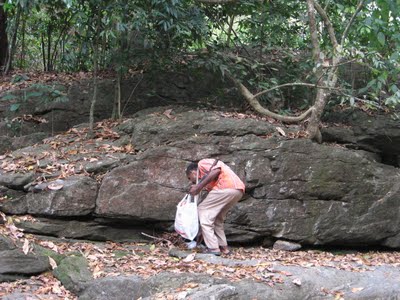 Seeing us collecting the picnic waste left behind by tourists, Matthai our guide joined us
We collected one large bag full of plastic wraps on our way back. Not knowing what to do with it, we took it along with us to the near by town and handed it over to the garbage collector the next day morning! What else do we do? What do we do with plastics? What will the garbage collector from Municipality do? They will burn it. By collecting it from forests, we can ensure that its' not eaten by animals or doesn't damage the immediate surrounding. However by not having a system of waste management, we are just doing a cosmetic cleaning, and nothing else.
Forest department in Kerala has done fantastic work in using tourism as a tool for conservation in places like Periyar, Chimmony and Chinnar regions. To develop sustainable tourism, the capacities of the local hosts including the tribes and those living on the fringes of the forests have to be developed. Thorough briefing on handling of the waste, importance of preserving forest land itself can bring about a change in tourist mind-set. The lack of infrastructure for waste management can to a large extend be minimised by proper behaviour. Quoting Mathai, our local guide,
"Well, people tend to do same things as they do back where they live, look at our cities and villages, we throw things everywhere. They continue to do the same here as well"
.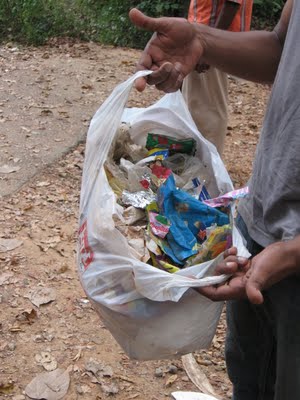 When a new tourism initiative doesn't take care of basic infrastructure and capacity building of local hosts, why launch it in the first instance. Why name it as eco-tourism and green wash? If our guide Mathai was inspired to collect waste from the tracks, we believe there will be many such Mathai's around the world. Crying about the waste-strewn surroundings doesn't help; be the change! Though engaging Government and tourism industry is important, let us not waste our time thinking they will bring the change and find solutions.
Let us show that we can make the difference, like the way Mathai did.