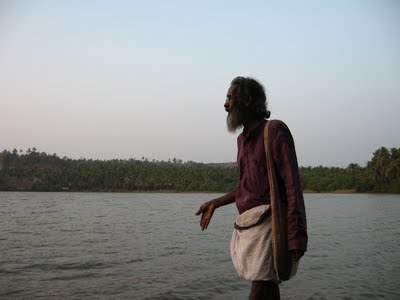 Gandhian Krishnettan - 'I have a duty to be the change'

This morning we had gone to meet some wonderful people with whom we have decided to work together on our sustainable development initiatives in Kerala. By end of the evening we realised that all we did was to learn, to be inspired by what they were doing. It was a day that made all of us smile, because it was another day where we felt good that we didn't give up half-way when things were tough.
We spent the day with Gandhian Krishnettan, who has dedicated his whole life living and promoting Gandhian values. Though his face was familiar in newspapers, I was really surprised to see him walking around the village in a loin around his waist!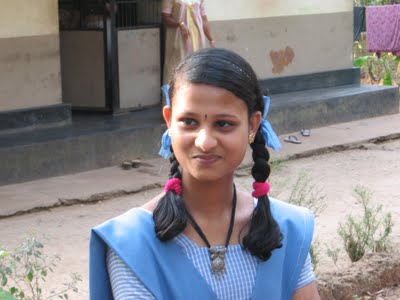 Binzy - the student leader is a 'health minister' in the school parliament
Later in the evening, by the river banks, he told us how disappointed he is about the way India is, 60 years after independence. He sounded like a man in hurry,who believes he has a duty to be 'the change', the man to bring changes to the society. He sounded desperate though he wouldn't admit it.
Krishnettan has finally decided to focus on a small village near Calicut,where he visits 50 house-holds every day to engage them on hygiene, health, education and nature conservation. He works with about 37 young students, who go around these houses twice a week with him to talk about the need for waste management, to avoid plastics etc. These students also have planted several trees within the small land holdings their parents have, and they were so proud to show us around! We were more surprised to see them growing a special variety of rice (njavara) known for its medicinal quality in small piece of land in the hillock.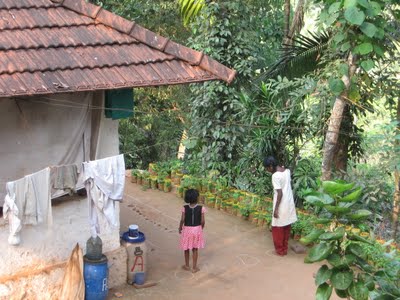 on the right side of the kids are the saplings taken care of by individual house-holds for planting
What was more surprising to us was the trigger that prompted the Gandhian to focus on these 50 house-hold rather than attempting to change the whole world. The septuagenarian said that he had lost his conviction to change the society and had almost given up till he met Rajesh, a young boy who had come to meet him last year after reading about his attempts to make villages self-relliant and sustainable. Rajesh stressed the need for him to work with young students, than trying to change the whole world. This was an effective scaling down from global views to local views, which looked very effective.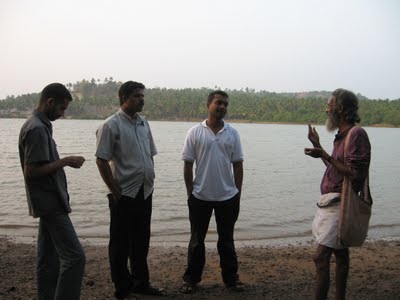 Rajesh(L), the youngster who convinced the Gandian to work with the students.
The success of the student initiative was visible when one of the women from the village told us that they don't burn plastic waste anymore. She said with pride that it were"these kids" who told them to segregate waste at source and keep plastic separate. She lamented, "We don't know what to do with plastic though!". The girl who is responsible for the student group is just 14! (Binzy said that she is also "Health Minister" in the school parliament.).
The day couldn't have been any better. Meeting three gems in a day! Gandian Krishnettan who works in the grass-roots especially with the youth, Rajesh who inspired the Septuagenarian, and Binzy the student leader who inspires rest of the team! They will soon be attending an inter-region exchange we are planning to bring together various stake holders of The Blue Yonder to share their experiences in finding solutions to commonly seen issues related to water, waste, power and health.